Article originally posted on www.insuranceneighbor.com

(opens in new tab)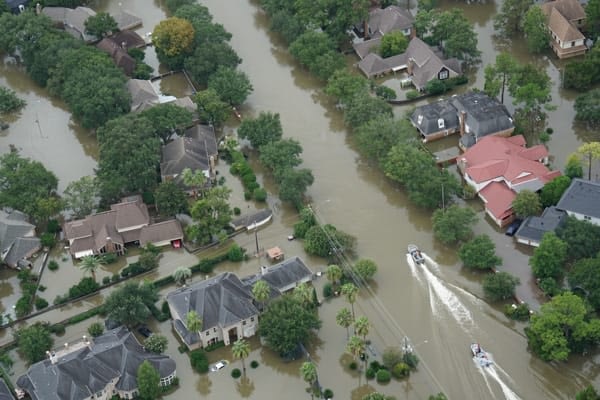 You might think you don't need flood insurance if you live in an area that is considered "high and dry." Although some areas are more susceptible to flooding than others, flooding can occur anywhere. With heavy rains, spring thaws, or rapid accumulation of rain after a wildfire, flooding can occur in places that are not generally considered at risk.
How Does Flood Insurance Differ from Homeowners Insurance?
Many homeowners are unaware that traditional homeowners insurance does not cover flood damage. For protection against damage caused by flooding, you will need to purchase a separate flood policy. Depending on the type of policy(s) you purchase, flood insurance purchased through the federally regulated National Flood Insurance Program (NFIP) covers building property damage up to $250,000, personal property up to $100,000, or both. Homeowners who take out a mortgage in a high-risk zone are required to purchase flood insurance.
Benefits of Flood Insurance
It doesn't take a hurricane for a flood to strike your area. Thankfully, an NFIP building property policy covers the cost of rebuilding your home or the actual value of your home, whichever is less. Specifically, it can cover your:
Home and foundation
Electrical and plumbing
HVAC equipment
Water heater
Major kitchen appliances
Permanently installed carpeting (over unfinished floors), cabinets, bookcases, wallboard, and paneling
Window blinds
Detached garage
Debris removal
When you purchase an NFIP flood insurance policy to protect your personal property, it will provide coverage for items such as:
Clothing
Furniture and electronic equipment
Freezer and frozen food
Washer, dryer, portable microwave, and dishwasher
Curtains and carpets not covered by your building policy
Window AC units
Up to $2,500 for valuables such as art and furs
How Do You Know If You Need Flood Insurance?
Low-risk flood zones are not the same thing as no-risk flood zones. Factors such as changing weather patterns and local dam projects could reduce the risk of flooding in the zone where your property is located, while other factors such as a residential development nearby could increase the risk. To find out the category of flooding risk in your community, go to the FEMA Flood Map Service Center. Our knowledgeable agency can assist you in evaluating your risk and finding flood insurance coverage that is right for you.
How Much Does Flood Insurance Cost?
The cost of flood insurance can vary dramatically depending on a variety of factors. While the main factor affecting premium costs is the level of risk according to government mapping data, other factors may also contribute to cost. As with any insurance, the more coverage you need, the higher your premiums will be. A flood elevation certificate may be required to determine the elevation of your home in relation to the base flood elevation level. Location of major utilities and appliances and renovations on the property may also affect cost. Our knowledgeable agency can help you determine how much flood insurance you need and find a suitable policy at the best available rates.
Filed Under: Personal Insurance
|
Tagged With: Flood Insurance